When Alastair Clarkson informed Ryan Burton that the Hawks wouldn't mind sending the talented young defender to Port Adelaide, Burton, who was holidaying overseas, was a little shocked to learn that he had become one of the expendables.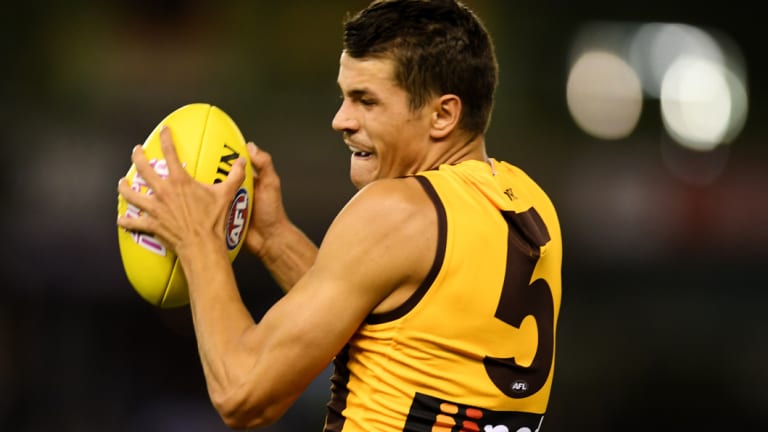 Most clubs wouldn't trade a 21-year-old with Burton's resume for a 25-year-old, not even one as gifted as Chad Wingard. Just as most clubs wouldn't jettison quadruple premiership players the calibre of Sam Mitchell and Jordan Lewis when they still had footy left.
Most clubs wouldn't think they could land both Jaeger O'Meara and Tom Mitchell in one post-season, when they didn't have a pick higher than No.14. Most clubs wouldn't encourage Luke Hodge to retire, when a player of his statue stature wished to keep playing.
But Hawthorn, as we know, aren't most clubs. The Hawks will not go gently in to that good night. They will not give up on the idea of winning finals and flags, even when the premiership cycle seems to suggest they should be knee-deep in the draft and replenishing their list with teenagers, readying themselves for a tilt at the 2022 or 2023 flag.
It is natural to compare the way Hawthorn approaches trades to Fremantle, who, if we take them at their word, will no longer pursue Jesse Hogan, despite having stalked him for several years.
Advertisement
Where the Dockers have dithered – prevaricating about whether Hogan is the right fit – the Hawks are forthright when chasing a player. If they want one, they go hard.
They want Wingard and are prepared to pay a hefty price, having offered Port Adelaide Burton and their first draft choice. Yesterday afternoon, this offer was deemed inadequate by Port, but surely it will be accepted if Burton agrees. It is a fair deal.
Clarkson has long rated Wingard highly, having watched him closely when he coached the international rules team. The Hawks see Wingard as a forward who can take his turn in the midfield; if it works, they will have a Cyril Rioli replacement.
The Hawks want Scully and while they are not prepared to pay a high price in the draft, they are backing their ability to get his ankle right and will have to pick up the remains of his not-unsubstantial contract. He will be a Hawthorn player.
It takes gonads to move Burton to get a player that is older, but who might bring the Hawks closer to a premiership in the short term. Clubs, by and large, do not trade older players for younger ones, unless circumstances force their hand – as when Greater Western Sydney swapped Taylor Adams for Heath Shaw.
The audacity of Hawthorn has been enabled by their success. That Clarkson has coached four flags means he and his club can contemplate bold moves – switchboard-meltdown material – that the majority of teams would struggle to sell to their marketing department and board, much less their fans.
Hawthorn have been blessed with a top-10 draft pick only twice in the past decade (2009, 2017) and on both occasions they've used those picks for trades (Shaun Burgoyne and O'Meara for a future pick).
Having never finished low enough to gain access to the kind of players that comprise Melbourne's midfield, the Hawks – led by Clarkson and Graham Wright in list management – have decided to be bold in their trades and free agent acquisitions.
At the end of every season, when they examine the playing list, Wright and Clarkson ask themselves: "How do we get better?" It matters not whether they use the draft, free agency or trades.
Their willingness to chance their arm meant that they had a spectacular free agent bust in Tyrone Vickery, a draft failure in the strife-prone Dayle Garlett and some traded players – eg Jonathan O'Rourke – who didn't cut the brown-and-gold mustard.
This post-season, again holding a lousy set of cards in the draft, they've taken calculated punts on two players. One has been badly injured, the other has not fulfilled his immense talent, for whatever reason.
Without high picks, success has given them a different form of currency: the freedom to gamble and fail.