Cardiff: Wallabies captain Michael Hooper admits he got it wrong by opting against taking two potential penalties on offer against Wales in Australias tryless 9-6 loss that coach Michael Cheika insisted wasnt the end of the world.
Twice in the second half, with scores locked at 3-3, the Wallabies kicked for touch near Wales 22-metre line rather than booting penalties they more than likely would have converted.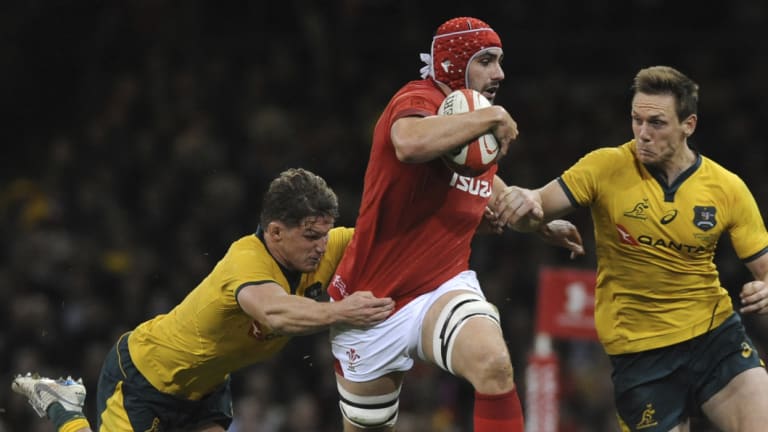 On both occasions, Australia lost possession shortly after as a result of a knock-on and a breakdown penalty against them.
It was the first tryless Test the Wallabies have been involved in since their 15-6 victory over Wales at the 2015 Rugby World Cup.
Advertisement
On reflection, Hooper said he should have taken the points on offer in a low-scoring affair.
"If I had my time again I would have gone for the shot," Hooper said. "I backed our guys, backed the want to get the try and keep the foot on, but probably my reading of the game there was amiss with the fact it was going to come down to penalties in the end.
"Hindsight is a nice factor, but I should have gone for goal."
Coach Michael Cheika added: "Its a decision you make according to the flow of the game."
Before the match on Friday, Hooper spoke about improving discipline and eradicating turnovers. Clearly the message didnt get through to his teammates as Wales' Dan Biggar booted a 77th minute penalty to get his men over the line to the delight of the local crowd.
Said Cheika: "I think we created a fair bit at the start of the game and we needed to cash in on those points. Defence was excellent, the effort and the energy around the game was really good but too many small errors – whether they be at the lineout, key moments or discipline in key moments … it cost us and released the pressure valve that we had on the opposition.
"There are a lot of things from this game I want to make sure players, in their disappointment, take into next week because there was a lot of very, very good work around the effort of the team, the work ethic, physicality and also the defensive side of the game."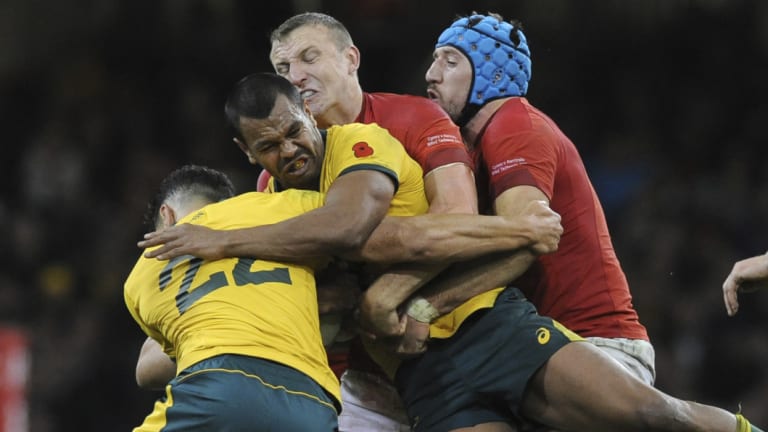 When it was put to Cheika that Australia had failed to continue their 13-match, 10-year winning streak over Wales, he didnt seem overly concerned.
"Its irrelevant to be honest," Cheika said. "Its about this game only. That stuff has got no bearing on what happens today."
Speaking on the field after full-time, Hoopers pain was there for all to see after a year in which the Wallabies have lost eight of their 11 matches.
Their winning record of 27 per cent in 2018 is the Wallabies worst in a calendar year since 1958, when 10 matches or more were played.
"It hurts," Hooper said. "We were able to repel a lot of what the Welsh threw at us but credit to them they stuck at it really strong.
"It has been a long-time jinx playing us and you could see how happy they were to get on top of us. It was a real grudge match and a real Test match. Congratulations to Wales, but it really hurts.
"We will re-group again. We have got two more games to play on this trip and a hell of a lot to play for each week. This really hurts and I back the coaching group and the players to turn this into winning results."
The Wallabies won 11 of their 14 lineouts. Tolu Latu missed two throws – one that was crucial with Australia camped in Wales territory – while one didn't go to plan off a Tatafu Polota-Nau throw.
Latu, however, managed a penalty over the ball and took some tough carries that Cheika was pleased with.
"Ive been a big supporter of Tolu even when he wasnt getting picked at the Waratahs this year," Cheika said. "Im a big believer in what he can bring."
Asked what he thought of back-rower Jack Dempseys first game back in the Wallabies starters for more than 12 months, Cheika said: "I thought he was good. He probably got a bit tired towards the end, I maybe needed to get him off the field a little earlier. I think it was a pretty good comeback."
Tom Decent is a journalist with Fairfax Media.