For someone with such an extraordinary talent on the golf course, Cameron Smith couldn't have more ordinary pursuits when he gets the rare chance to put down the clubs.
He likes to wash his cars, he says, and has developed a liking to tend to his lawn in Jacksonville, Florida. The 25-year-old does hail from Brisbane, where you can literally watch the grass grow in the humid summers, so it's most likely in his DNA.
Decidedly low-key, humble and a contented suburbanite when he's not on the course, Smith paints the picture of the most average of Joes. He's nothing of the sort. A prodigious talent that has already soared to 32 in the world, the unassuming Queenslander returns home as one of the headline acts of the summer.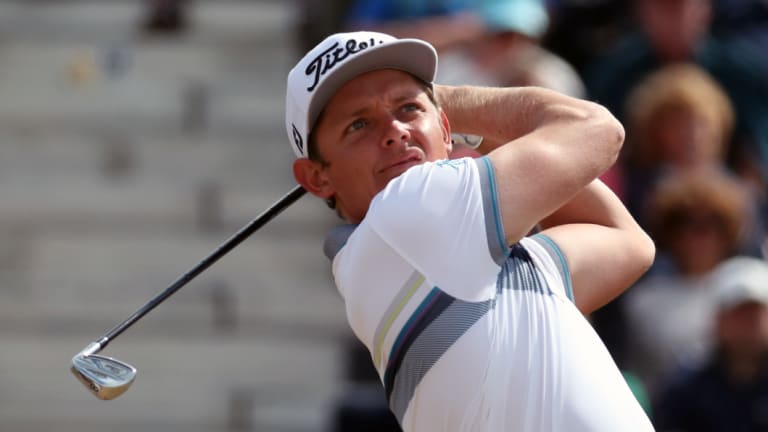 With no Adam Scott to support the local tour, Smith has stepped up to play the World Cup in Melbourne with Marc Leishman, then the Australian Open in Sydney before ending it with a defence of his Australian PGA Championship crown on the Gold Coast.
Even Smith struggles to come to grips with the progress he's made after just five years as a pro, although being on the tournament billboards takes some digesting.
Advertisement
"I really try not to think about that stuff. Im just really excited to come back down and see everyone and play some Aussie golf," Smith said.
Previously, coming home for Smith meant a few cold beers and some golf around the edges, although he always played well. Last year, he knuckled down and the reward was a Joe Kirkwood Cup, ticking off an Australian classic early in his career.
Expect more of the same this year, starting with the World Cup at the Metropolitan. Given Leishman's recent form and the pair's affinity for sandbelt courses, it's an event Smith believes presents an excellent opportunity.
"I think Leish and should bond really well together. Weve been playing a lot of rounds together, getting to know each other as well. I really cant see why we cant put up a good show down there in Melbourne," Smith said. "We both love Melbourne courses. If everything is going our way, theres no reason why we shouldnt go down there and give it a good crack."
Smith finished with seven top-10 finishes on the PGA Tour, one of which was a tied for fifth at Augusta. He feels he belongs among the game's elite and deep down, always knew he could arrive at that juncture.
He just arrived there a little faster than he had imagined.
"My coach (Grant Field) was saying the other day, just talking about this, and he asked if I thought Id make it this far. I said I always thought I could make it this far but I didnt think it would happen this quickly," Smith said. "Its five years, its a long time, but it has gone so quickly. You play so many events and you work so hard it doesnt feel like that long at all."
Only Leishman and Jason Day are ranked above Smith in terms of the Australians and there's little reason why he couldn't leapfrog both of those players in the coming years. Time is on his side, although he hasn't made being the nation's number one male golfer a strict priority.
"Yeah, it would be nice. But I tend to just set myself goals do with the world ranking, not to get in front of anybody else. It would be nice and if I keep up the hard work I think I can get there."
A return to Australia also means a return to people making gags about him being the 'other' Cameron Smith, something he's always taken with good humour. He's met the rugby league great numerous times, the first at a signing session when he was at school.
"Everyone makes the joke to me – the real Cameron Smith is a footballer. I get that joke all the time," he said. "I used to play rugby league in primary school. We went to a Maroons camp and they had a signing day… I was in grade five or six. I remember saying I had the same name as his. When I met him again last year, he didnt remember."
Sports reporter