The Shield auditions are over, the numbers are in, but Australia's selectors are still agonising over their batting line-up with training form in Adelaide likely to be a major factor in determining whose dreams in the baggy green are realised or put on hold.
Three days before the start of the first Test, hardly a position in the top six has been finalised while all seven batsmen picked in the squad remain a chance to play.
Further complicating matters, selectors will also be wary of the prospect of hot weather baking the Adelaide Oval wicket and bringing into play India spin wizard Ravi Ashwin at the business end of the match.
Ashwin's record on these shores of 21 wickets at 55 is only modest but the Australian brains trust is wary of playing too many left-handers who would be vulnerable to the off-spinner turning the ball away from the bat.
Advertisement
The pitch at Adelaide has traditionally favoured batsmen but since becoming a drop-in there has been encouragement for the quicks on day one.
That said, South Australian leg-spin prodigy Lloyd Pope claimed seven wickets on day one of a Shield game this season.
It was initially thought the last spot in the top six would go down to Marcus Harris and Peter Handscomb but both players made scores in difficult conditions last week.
Coach and selector Justin Langer all but declared Travis Head a certain starter after the squad was named but the South Australian did not pass 50 last week in the Shield.
As of Sunday, Head, who played his two Tests abroad, was still unclear if he would get to wear the baggy green in front of his home crowd.
Langer was impressed by the relationship Aaron Finch and Usman Khawaja built as openers against Pakistan but there is also a push for him to return to No.3, where he has batted with distinction at home.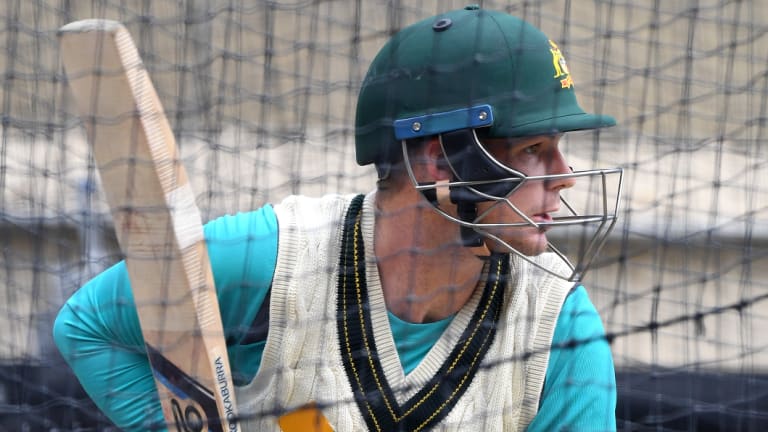 "Another thought is you play your best batter at three and I think in this squad Usman Khawaja is our best batter and Harris deserves a crack," Brad Haddin, the former Test vice-captain and member of Australia's coaching staff, said on Triple M's Willowtalk program on the weekend.
That would enable opener Harris to make his Test debut but leave four left-handers in the top six if selectors stuck firm with Head.
Head's form in the Shield has been moderate but he is an incumbent in whom selectors have invested heavily. He also played a big role in Australia saving a Test against Pakistan.
If Head was to miss out, then Victoria's Handscomb would return to the middle order.
While veteran Shaun Marsh is assured a game after a flurry of runs at Shield level, there is debate over whether he bats at five, where he was so prolific in last season's Ashes, or higher.
Marsh failed in the Middle East batting in the top four, recording only seven runs in four hits.
"Last summer he was one of our leading batters but down at No.5," Haddin said. "We moved him up the order in the UAE, probably a role at Test level he hasn't quite grabbed hold of."
"Do you leave him because he's a senior player? Or say, 'You know what, you've done a really good job at five, you've stopped a lot of those collapses in the Ashes'.
"Do you play him there and move everyone around him, because Peter Handscomb is a natural fit at No.4."
Head is expecting a strong test in the nets from the pace trio of Josh Hazlewood, Pat Cummins and Mitchell Starc.
"It's hard work. You don't get anything easy," Head said.
"You'll walk out to the middle knowing you've prepared well, know I'm ready to go. If I can get through these ones I think we can get through anyone in the world."
Andrew Wu writes on cricket and AFL for The Sydney Morning Herald
Most Viewed in Sport