Tom Brady threw for three first-half touchdowns as New England clinched their ninth straight first-round bye in the play-offs with a 38-3 victory over the New York Jets on Monday (AEDT).
The Patriots (11-5) finished the season undefeated at home, where they'll have at least one play-off game.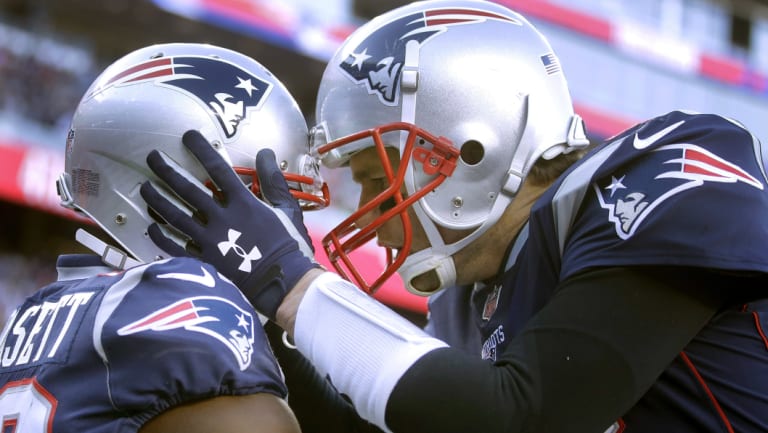 "Essentially, we won next week because we won today," Patriots coach Bill Belichick said.
"We'll see who our next opponent is, but we know they'll be good or they wouldn't be playing this time of the year."
Advertisement
New England, the NFL's only unbeaten team at home, could still earn the No. 1 seed in the AFC if both Kansas City and the Los Angeles Chargers lose later on Monday.
But after back-to-back December losses left the Patriots with a losing record on the road, they finished with two straight home wins to avoid playing in the wildcard round for the first time since 2009.
"Eleven and five is nothing to be sad about," Brady said.
"We fought pretty hard and put ourselves in good position."
In what could be the final game for Jets coach Todd Bowles, New York (4-12) lost for the ninth time in 10 games.
Rookie Sam Darnold, who had been playing well since returning from a foot injury, completed 16 of 28 passes for 167 yards, but he also had a fumble that gave New England a touchdown.
Brady completed 24 of 33 passes for 250 yards and four scores overall, bouncing back from his worst performance since 2006 – a 48.3 passer rating in a 24-12 win over Buffalo.
In other matches, the Buffalo Bills beat the Miami Dolphins 42-17, the Detroit Lions thrashed the Green Bay Packers 31-0, the Carolina Panthers defeated the New Orleans Saints 33-14, the Dallas Cowboys edged out the New York Giants 36-35, the Houston Texans were victorious against the Jacksonville Jaguars 30-3 and the Atlanta Falcons beat the Tampa Bay Buccaneers 34-32.
AP
Most Viewed in Sport
[contf] [contfnew]
[contfnewc] [contfnewc]