It doesnt fit into Mitchell Pearces "Im just focusing on the next match" mantra that has served him so well this season, but there's more on the line in the State of Origin decider than burying several personal demons.
Finally winning a series with NSW is one thing. Privately, though, he has told those close to him that hes desperate to play for Australia before he retires. At the age of 30, time is running out.
Its why the speculation about him "snubbing" the Blues in games one and two were off the mark.
Pearce identified at the start of this season that he wanted to play for Australia, if only once, and knew that Origin was the best pathway there.
Advertisement
Playing with a groin and hip injury in game one, and then also playing out of position alongside Nathan Cleary in game two, wasnt going to help anybody.
Now, with Cleary sidelined because of an ankle injury, Pearce can in the space of one match slam the door on his ugly Origin past and open another door to his possible future for the Kangaroos.
He was always the scapegoat when NSW lost and I felt sorry for him.

Mal Meninga on Mitchell Pearce
Funny game, isn't it?
The Kangaroos play two Tests later this year, meeting New Zealand at WIN Stadium on October 25 and then Tonga as part of an international triple-header at Eden Park on November 2.
While Queensland captain Daly Cherry-Evans is the incumbent Australian No.7, national coach Mal Meninga is a huge Pearce fan.
"Anythings possible — nobodys position is guaranteed in the Australian side," Meninga said. "Mitchell has reached the point of his career when he is really peaking. Hes had an up-and-down career so far but hes really matured. Hes come through all those issues hes had and is now a better person and player because of it. It shows a lot about his mental application and dedication to still be in the picture for rep football."
Meningas renowned for his loyalty — but hes also thorough when it comes to selection. If Pearce can dominate for NSW in the decider, and then drive Newcastle deep into September in the NRL, he will put considerable pressure on Cherry-Evans.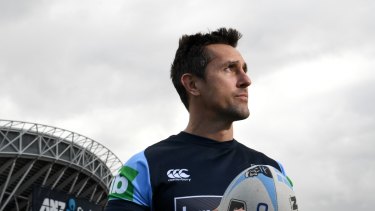 The irony is Meninga, in another life as Queensland coach, was responsible for putting as much pressure as he could on Pearce.
"He was always the scapegoat when NSW lost and I felt sorry for him," Meninga, who coached the Maroons from 2006 to 2015 before taking on the national job, said. "He had the respect of our players. You do your homework on the opposition and we always saw him as a definite danger. We always saw him as a player we needed to stop. His game has always been quality.
"We would do video and on him and knew we had to apply pressure to him. We were always going to apply the blowtorch to everyone. Our desire was to be aggressive, the way we applied ourselves to the game, and Mitchell was a part of that.
"We made sure we applied the torch to him to see if he could handle it. There mightve been some self-doubt there when he played — but I dont think he was the sole reason NSW lost all those matches."
The respect Queenslands greats have for Pearce isnt lip-service.
Earlier this week, former Maroons captain Cameron Smith was gushing in his praise of the Blues halfback.
"Im a fan!" he declared.
What isnt commonly known is how Smith tried to entice PeRead More – Source