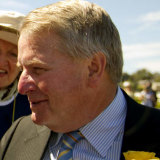 The year 1977 was a very good one for the Sydney Turf Club, with Luskin Star producing one of the best Golden Slipper wins, womens rights breaching the members enclosure, the first computerised tote meeting and Lindsay Murphy.
Now 63, Murphy will be the last STC heavyweight, on ability more than girth, to leave the centre stage of NSW racing.
The STC was a major contributor to the most dynamic turf period in the state, which is now controlled by the iron hand of Racing NSW supremo Peter Vlandys, with the Australian Turf Club – a combination of the STC and the then controlling body, the Australian Jockey Club – just a subsidiary.
No doubt the major influence for STC success was the way they groomed their staff, and Murphy is a prime example. Murphy began with the club in 1977 as a junior clerk in the office after being interviewed by the stalwarts Pat Parker, the CEO from 1976-2000, and John Nicholson, later racing secretary from 1980 until the merger. Murphy moved on to get his hands soiled with tracks under the energetic John Jeffs.
Advertisement
Murphy, now general manager of racecourses for the ATC, will officially retire at the end of the month at a time when services in Sydney, overall, have never been better.
Hopefully the STCs contribution, detailed in Gary Lesters The Essential Club, will never be dimmed. Yes, the introduction of the Golden Slipper possibly tops the bill, changing the face of Australian racing, and a plethora of other great races after groundbreakers like barrier stalls and photo finish cameras.
Perhaps the computerised tote, which was rocket science at the time, was a dual STC-AJC venture, but it was introduced at Canterbury on June 15, 1977, and took punters into a new age of betting.
The AJC was also shy of admitting women as full members but not the STC, which pushed for them in 1977 and gave 26 full privileges in 1978.
Murphy maintains that Jim Fleming, the food store magnate who took his "Fabulous Flemings" enthusiasm into the club as STC chairman, was the most dynamic administrator.
"He just wanted new ideas and made you carry a notebook to monitor where they were going," Murphy recalled. "He didnt mind if they didnt prove successful but wanted them fully explored."
Fleming challenged the Melbourne Cup prizemoney with the Golden Slipper, just an earlier example of the Sydney-Melbourne rivalry which took a new turn this week when a $400,000 prize for jockeys – the Star of the Saddle – was announced to keep them in Melbourne for the spring after an aged SMH hack recently suggested Vlandys put a World Jockeys Championship on to get the best and keep them in Sydney over the same period.
Obviously, Fleming was more Vlandys than AJC. Beancounters grimaced at Flemings venture into a hurdle racing day at Rosehill that didnt take off, like his introduction of an international event to the Sydney autumn scene.
"Jim was before his time getting European horses here," Murphy reckons. "We just didnt have the facilities Read More – Source