Sen. Josh Hawley (R-Mo.) is continuing his efforts on Capitol Hill to hold Chinas ruling Chinese Communist Party (CCP) accountable for its actions on the world stage, including its censorship of its own citizens that has contributed to the global pandemic of the CCP virus, commonly known as novel coronavirus.
The senator announced a bill for a "Justice for Victims of COVID-19 Act" on Monday, calling for an investigation into the CCPs handling of the COVID-19 outbreak in Wuhan.
The legislation would create a Justice for Victims of COVID-19 Task Force at the State Department, with the goal of securing restitutions from the Chinese government.
It would allow lawsuits against the CCP by stripping the totalitarian regimes claim to sovereign immunity. Lawsuits could then be filed against the CCP "for reckless actions," such as withholding crucial information and silencing whistleblowers.
Related Coverage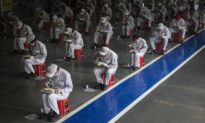 CCP Virus: Just Reparations
"There is overwhelming evidence that the Chinese Communist Partys lies, deceit, and incompetence caused COVID-19 to transform from a local disease outbreak into a global pandemic," Hawley said in a statement.
"We need an international investigation to learn the full extent of the damage the CCP has inflicted on the world and then we need to empower Americans and other victims around the world to recover damages.
"The CCP unleashed this pandemic. They must be held accountable to their victims."
If the bill is passed, it will also allow U.S. courts to freeze the CCPs assets in the United States on behalf of the plaintiffs.
Senator Hawley currently serves on the Senate Committees on the Judiciary; Armed Services; Homeland Security and Governmental Affairs; Small Business and Entrepreneurship; and the Special Committee on Aging.
Hawley is often in the headlines on issues involving the Chinese Communist Party.
Read MoreUS Senators Raise Alarm About Chinas New Encryption LawSenators Urge NBC to Refuse to Air 2022 Beijing Olympics Over Human Rights ConcernsSen. Hawley Calls for UN Resolution Condemning Chinas Violation of 1984 Hong Kong Treaty
In mid-March, he closely questioned witnesses during a Senate hearing on the dangers posed to Americans by the nations extreme dependence on drugs and medical supplies made in China.
Earlier, Hawley introduced another bill for a "Medical Supply Chain Security Act of 2020" that would authorize the Food and Drug Administration (FDA) to require that manufacturers "report imminent or forecasted shortages of life-saving or life-sustaining medical devices to tRead More From Source
[contf] [contfnew]
[contfnewc] [contfnewc]