The federal government duly distributed devices across the country last week — but accompanied them with only enough test kits to test around 115 people in each state. Now, governors and state health officials say they feel confused and misled about how much help they can expect from the Abbott system. Assistant Secretary for Health Brett Giroir, meanwhile, whose office arranged the purchase of the devices, said tens of thousands more tests are coming, to be divided among state labs most in need. He said he only purchased some of Abbott's existing test stock for the states in order to leave the rest for other health care organizations. "No good deed goes unpunished," Giroir told CNN. The rollout of the Abbott device has become one more flashpoint in the tensions between a federal government seeking to realize the often overblown promises of the President and states desperate for defenses against the rapidly spreading virus. Key to the effort is widespread testing of both sick people and others who may have been exposed. But shortages have plagued the testing supply chain, from scarce sites to insufficient swabs to labs whose limited processing devices have created days-long backlogs for results. Coronavirus testing across the country involves a patchwork system of public and private labs. Most test processing is done by commercial labs, like Quest Diagnostics, LabCorp and others, which use high-throughput machines that can run hundreds or thousands of tests a day. Public state labs conduct a smaller portion of the nation's tests. The Abbott system, called ID NOW, runs one test at a time and can detect positive coronavirus cases in as little as five minutes and spit out negative results in 13 minutes, according to its manufacturer. It is what's called a "point of care" system, portable and fast enough to provide rapid results at nursing homes or mobile testing sites. Giroir's office purchased 15 of the devices for every state except Alaska. Alaska received 50 devices and the Indian Health Service got 250, to better serve rural communities.  But the machines are useless without cartridges that include the chemical reagents necessary to perform the tests, like printers without ink cartridges. Giroir said he initially bought thousands of tests to distribute evenly among states, asking Abbott to then prioritize orders for additional cartridges according to the size of outbreaks. Many hospitals, clinics and other testing sites have been able to buy the rapid tests from Abbott directly. Still, some governors and state officials were frustrated to receive only around 100 test cartridges to use with the fast, new devices in state-run labs. "It's incredibly frustrating, because it was a lot of talk about this device, there was a lot of hype on it nationally and that was wonderful and then when they showed up, expectations were set really high," New Hampshire Gov. Chris Sununu said at a press conference last week. "But to actually have these, 13 of these devices, and have no way to use them — I'm banging my head against the wall. I really am." CNN reached out to more than a dozen states, including those with the largest outbreaks. Several did not respond, or simply confirmed that they had received the Abbott machines. But some said they believed the federal government had promised them more tests than they received. The Maine Center for Disease Control & Prevention was "informed" by federal authorities that the state should expect 100 test kits, each of which tests 23 people — enough to conduct about 2,300 tests, said Robert Long, a spokesman for the agency. Instead, when officials opened the shipment from the federal government last week, they found just five kits — enough to test 115 Maine residents.  "The fact that we got much, much less than we initially thought and were told we would be getting — we're going back to the drawing board," Maine CDC director Nirav Shah said at a briefing last week. His office said the state had put in an order with the federal government for 50 more test kits.  A spokesperson for the Minnesota Department of Health said the state is holding the five kits it received, along with 15 machines, until it sees where the greatest need is. Another 20 hospitals and clinics in the state have the Abbott ID NOW devices but do not have the cartridges to run the tests, he said.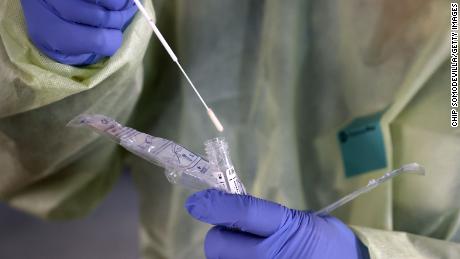 One state health department official, who asked to speak anonymously in order to avoid antagonizing the White House, told CNN that the lack of testing supplies and other resources delegated by the federal government had put them in "a real pickle."  "The whole disbursement has become increasingly politicized," the official said. "They tell us vague platitudes about getting lots of stuff, and then when it comes, it's very limited and not that helpful… If the government here doesn't kiss the ring, we don't get what we need."
Feds say 30,000 tests are coming
Giroir said that he had initially allocated the Abbott devices and cartridges evenly, so that each state would have the ability to do some rapid, point-of-care testing in places such as nursing homes hit with outbreaks. "There are some state public health labs that do a very small amount of the state's testing. There are some that do all of it," Giroir said. He added that the test cartridges "are going to go to the places that if they didn't have it, the state would not get any testing or they'd be really up a creek."  The federal government will acquire supplies for about 30,000 rapid Abbott tests for distribution to states this week, Giroir said, and he hopes that number will increase next week. Those will be primarily distributed to states that rely heavily on public labs for testing. Giroir added that federal officials had asked Abbott to ship rapid tests not purchased by the government to customers in states with the largest outbreaks of coronavirus. And he said that some states' own labs still weren't operating at full capacity.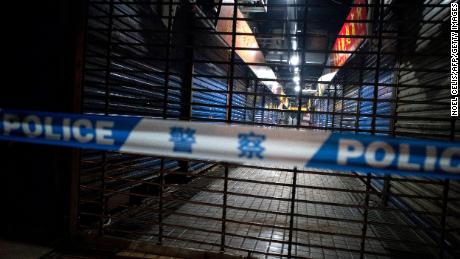 "The states have some responsibility to do this as well," Giroir said. "I'm not saying it's a state problem. I'm saying that the states need to make sure that their academic labs, hospital labs, et cetera, are functioning to their fullest efficiency." Meanwhile, most of Abbott's rapid tests have been shipped to other customers across the country as the company tries to keep pace with enormous demand. A spokesperson for Abbott told CNN that as of Saturday, about 566,000 rapid coronavirus tests have been shipped. It's currently manufacturing 50,000 rapid tests per day and plans to raise that to 2 million tests a month by June. "The majority of these tests have been sent to outbreak hotspots and we've asked that customers prioritize front-line health care workers and first responders," an Abbott spokesperson said. The tests are already being used at rapid CVS testing sites opened last week in Georgia, Rhode Island and Massachusetts, a CVS spokesperson said, and a Walgreens spokesperson said earlier that the company was planning to use the rapid test at their sites.  Several private hospitals and labs said they have enough supplies of Abbott's rapid tests. A spokesperson for MedStar Health, a hospital system with locations in Washington DC, Virginia and Maryland, said 14 of their urgent-care centers and three testing tents started using the rapid tests on Tuesday. "Right now we have adequate supply for current needs," the spokesperson said.  And Dwayne Breining, MD, the executive director of New York's Northwell Health Labs, a private lab system serving hospitals in the state, said he wasn't aware of any supply issues with the rapid tests. Hospitals can also use their own tests. Hackensack Meridian Health, a hospital group in New Jersey, developed a test in-house that gives results in three to five hours. The organization's hospitals just started training with the ID NOW system on Monday, said Dr. Daniel W. Varga, the group's Chief Physician Executive.
A nation desperate for quick results
With the Abbott cartridges in hot demand and the federal government only overseeing distribution of some of them, the company now finds itself in the delicate position of triaging oRead More – Source
[contf] [contfnew]
[contfnewc] [contfnewc]