But some experts say the wipes, arguably the supply that's been used to clean surfaces in homes the most, are harming sewers. Why? Because people are flushing wipes down toilets, rather than dumping them in the trash.Now, public agencies around the nation are urging people to solely throw their wipes in the trash, warning that not doing so could cause blockages and damage to sewer systems.
Wipes cause sewage issues
Facilities across California have already reported issues with their sewer collection systems, the state's Water Resources Control Board said. Many cities in California use centralized sewage collection systems that rely on gravity and water flow to move along waste, according to regulators. Toilet paper dissolves in those systems, where as wipes and paper towels don't break down so easily. "Flushing wipes, paper towels and similar products down toilets will clog sewers and cause backups and overflows at wastewater treatment facilities, creating an additional public health risk in the midst of the coronavirus pandemic," the state's Water Resources Control Board said in a news release. Other state agencies across the country — including the Northeast Ohio Regional Sewer District, the Lawrence Department of Public Works in Massachusetts and the Charleston Water System in South Carolina — have issued similar warnings.
Not even 'flushable' wipes are safe, some officials say
A shortage in toilet paper due to panic buying could mean that people have turned to using flushable wipes. But some water professionals caution that "flushable wipes," and disinfecting wipes in general, aren't really flushable.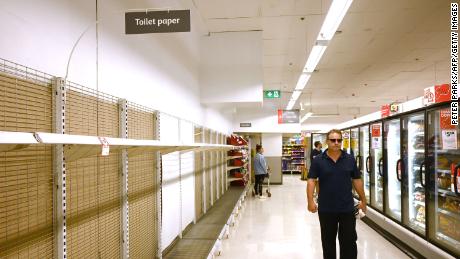 Wipes can cause damage to sewer systems and equipment even if they are labeled "flushable" or "septic-safe," according to the New York City Department of Environmental Protection.Many wipes are made of synthetic materials. These materials, when combined with other personal hygiene products that are flushed and grease that is poured down drains, create what waste workers refer to as "fatbergs" in sewers."When a product is labeled 'flushable' it generally means that it will clear your toilet bowl," the department states on its website. "It does not mean it will definitely clear your pipes or break down in the sewer system or at a wastewater treatment plant.&quRead More – Source
[contf] [contfnew]
[contfnewc] [contfnewc]