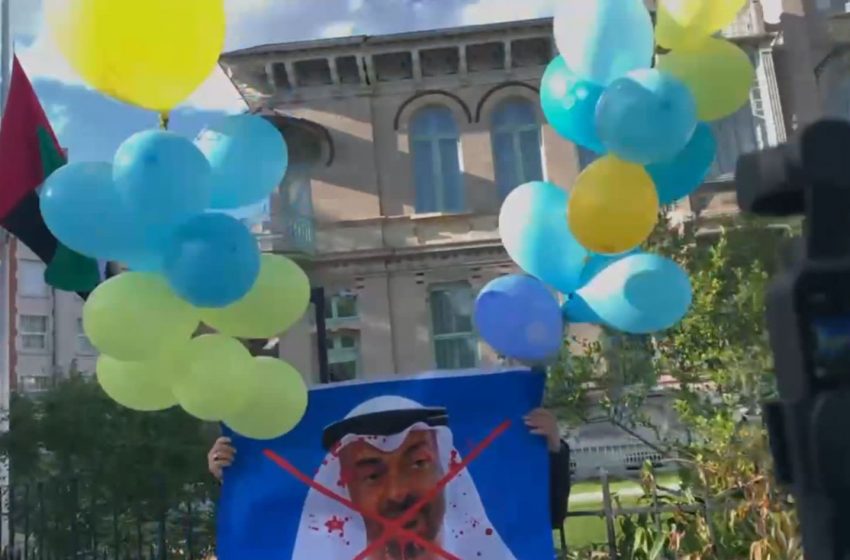 Brussels, Europe Brief News — Ukrainian activists protested in front of the UAE embassy in Brussels. Protestors tore up the Emirati flag to protest Abu Dhabi's support for Russia in its war on Kyiv.
Ukrainian activists protesting at the Embassy call themselves Red Wolves and the nationalist movement Union Svoboda.
Activists criticized the role of the UAE in allying with the international pariah Russian regime, including providing a haven for wealthy Russians to escape international sanctions.
Protestors flew balloons bearing the images of UAE President Mohammed bin Zayed on which "killer" was written, describing him as a war criminal and supporter of oppressive regimes worldwide.
Activists had burned the UAE flag in front of its Embassy in Brussels a few days ago and attempted to storm it to denounce Abu Dhabi's policies of "supporting Russia's war on Ukraine."
For weeks, protests have continued in European capitals against Russia against the backdrop of the invasion of Ukraine amid a consensus condemning the UAE's alliance with Moscow.
The protesters chanted slogans demanding sanctions on Russia and Mohammed bin Zayed, who provided a safe escape from international sanctions for the Russian elites in the Emirates.
The protesters had previously prevented vehicles from using Russian fuel in Brussels as part of the popular movements against Moscow's war on Ukraine.
Dozens of European and Ukrainian activists staged a sit-in in Brussels to protest against the Russian war on Ukraine and the support provided by Moscow's allies, led by the UAE.
The sit-ins took place in front of 13 stations of the Russian Oil and Gas Company (Lukoil) in Brussels to prevent the sale of Russian petroleum products.
The demonstrators raised banners denouncing Russia's war on Ukraine and authoritarian regimes' support for Russia, such as the UAE.
The demonstrators carried pictures of Russian President Vladimir Putin and UAE President Mohammed bin Zayed, describing them as "perpetrators of war crimes."
Dozens of activists from Ukraine and other European countries demonstrated earlier against the import of gas from Russia, and the UAE, against the backdrop of its support for Moscow's invasion of Ukrainian lands.
The demonstration took place in the port of Antwerp in Belgium, and the participants raised written banners against the UAE and Mohammed bin Zayed. They provided a haven for Russian business people from European and international sanctions.
The demonstrators demanded more international sanctions against Russia and the imposition of similar sanctions on the UAE to stop its support for Moscow and its shameful positions in support of authoritarian regimes.