Oh dear, it's going to rain, isn't it? On the morning of the coronation of Charles III, British television is showing what appears to be the buildup to the buildup. Under moody grey skies, smartly garbed presenters are gesticulating in the streets of London, talking about the weight of history, the thousands of troops, the plastic crown-sporting crowds milling along the procession route.
"Exquisite scenes," observes BBC anchor Kirsty Young, a vision of serene unflappability, seated beside a Day Of The Triffid-esque eruption of fauna that only slightly makes the studio resemble a funeral home. On ITV, the anchors are Julia Etchingham and Tom Bradby, while Sky has Kay Burley and Anna Botting.
If British television loves the splendour (and the box office) of huge royal events, it's not alone. Topping an entire weekend of events, and reportedly codenamed "Operation Golden Orb" (making it sound like a big-budget spy thriller), there's a predicted gigantic global audience (television, radio, streaming) for the first crowning of a British monarch in 70 years. We're promised a royal broadcasting spectacle nonpareil. Though Queen Elizabeth II's flickering, black and white televised 1953 coronation is such a staple of royal iconography it seems hard to beat. Not that it's a competition. Is it?
First though, there are hours of special guests, from Gyles Brandreth to Jamie Oliver, heroically rambling into various microphones. From the outside world comes news of the arrest of anti-monarchy placard-waving protesters ("#Not My King") in Trafalgar Square (from what I can make out, a detail the BBC coronation coverage leaves curiously unreported).
The coronation-proper swings into action. King Charles and the Queen Consort, Camilla, accompanied on horseback by the Household Calvary, Postillions and others, as they're transported by coach from Buckingham Palace to Westminster Abbey, with the route lined with fluttering flags and by now rain poncho-ed crowds cheering and singing the national anthem. Here then is the promised supernova of regal pomp and 1,000-year-old customs: a dizzying visual feast of red and gold. The arrival of the royal couple at the abbey is further heralded by trumpets and the appearance of royal regalia/bling (crowns, orbs, sceptres). Accompanying Charles, his nine-year-old grandson, Prince George, who serves as one of the kingly robe bearers.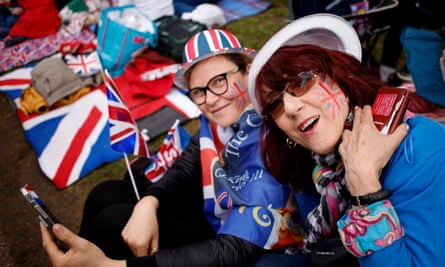 In the abbey, honoured guests include the prime minister, Rishi Sunak, and also the Labour leader, Sir Keir Starmer, seated next to Liberal Democrat supremo, Sir Ed Davey (presumably with much to talk about following the recent local elections). Alongside world dignitaries, there are all the living former British leaders from Sir John Major and Sir Tony Blair to Boris Johnson and Liz Truss (politely but lethally described by BBC commentator, Huw Edwards, as "prime minister for a brief period"). For those minded to play Daily Mail bingo, I can report that Prince Harry (sans wife, Meghan Markle) could be found seated in the third row (who will get less camera-time, one wonders – Harry or Andrew?). Elsewhere in the gilded pews, there is Katy Perry (due to appear in the royal coronation concert), Judi Dench, Ant and Dec, and many more. I try to spot the "Most Surprising Coronation Invitee", Nick Cave (newly minted head of the royal-goth mash-up), but to no avail.
The ceremony itself, led by the Archbishop of Canterbury, is admittedly majestic and historical but, even slimmed down to a couple of hours, remains a gnomic, confusing miscellany: oaths, anointings, enthronements, choristers, swords, staffs, coronation spoons. Even Charles's robes are complicated: including a gold supertunica and a simple shift called the colobium sindonis (Is it just me or does the king look a mite under-dressed and vulnerable in this – like he's waiting for his chiropodist?).
There's another slightly awkward moment during the "allegiance" part of the enthronement – the bit (since softened and amended) when, originally, everyone watching at home was supposed to put down their bag of Doritos or their slice of Victoria Sponge, and "pay homage", or something. In the end, the King's son William, the Prince of Wales, comes forward to do this, with a kiss.
The ceremony is over, with Edwards declaring: "Charles's journey as crowned sovereign is about to begin." The royal couple go forth into the drizzly day, climb into the gold state coach (more supersized royal bling) and, accompanied by the largest military formation for 70 years, are ferried back to Buckingham Palace.
Is it just me or was it – no weather pun intended – a bit of a damp squib? All coming too soon (for a royalled-out public) after the platinum jubilee, and the deaths of Prince Philip and Queen Elizabeth II. And while undoubtedly a huge global spectacle, the question lurks: what place is there for a monarchy in a truly modern society? Acting as TV critic, I deal with period dramas, but what is this, the coronation, if not the latest instalment of Britain's biggest, longest-running and most globally saleable costume drama? One which, depending on how you view it, is a glorious demonstration of heritage, or an exorbitant tone-deaf display of privilege in difficult times. I'm thinking of this as King Charles III, and the rest of the "working royals" stand, smiling and waving, on the palace balcony. As perhaps are they.